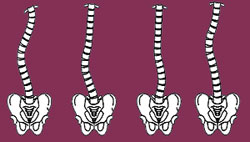 Scoliosis is a much misunderstood condition involving atypical curvature of the spine in the coronal plane, but also typically involving changes in lordosis, kyphosis and vertebral rotation. Side-to-side spinal curvatures have changed much in medical opinion over the past few decades and these changes have certainly modified the way curvatures are treated. Doctors know more about irregular spinal curvatures now than ever before, but the latest research and statistics still demonstrate that most cases of idiopathic scoliosis are quite enigmatic to even the most enlightened experts in the field.
Scoliotic curvatures can begin at any age, from pre-birth to just before death and can affect people for numerous reasons. There are several known varieties of atypical curvatures that can affect the vertebral column and each of these might begin, progress and respond to treatment for completely different reasons. When discussing the subject of lateral spinal curvature, it becomes ever-more clear that there are actually many individual varieties that make up the larger condition of scoliosis.
Scoliosis has a very special meaning to me, since it was the very first diagnosis I ever received in what would become a lifelong struggle with back and neck pain. If it was not for the poor quality diagnosis and treatment that I received, I often wonder how things might have turned out differently for me. There is no going back in time, but I have learned much from my experiences and intend to use this knowledge as a weapon of advocacy for those who are still new to the complications of the dorsalgia diagnosis and treatment sector of healthcare.
If you are looking for objective and honest information on the full range of topics related to atypical backbone curvature, then you are certainly in the right place. In fact, if you really want to learn everything there is to know about scoliosis, then you are in the only place, since this website is the exclusive online resource in the world that covers the exhaustive array of topics related to spinal curvatures, including causes, symptoms, diagnosis, treatment, surgery and the most important factor of all: the psychoemotional effects of having an unusual spinal anatomy and all the postural and functional changes that accompany it. Please enjoy this web resource and use it to advance your own story in a positive direction. There is no reason why the overwhelming majority of people who have scoliosis can not live completely full, unrestricted and extraordinary lives. I am here to help you accomplish everything you set out to achieve!
Sincerely, Sensei Adam Rostocki, Founder and Editor-in-Chief of The Cure Back Network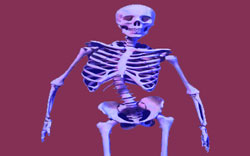 What to Expect from The Scoliosis Authority
This scoliosis education and advocacy website is a gift of The Cure Back Pain Network. We are the leading provider of information about back and neck pain on the web and have been offering completely free expert guidance for patients for over 12 years. We are the most trusted name when it comes to all things relating to the human spine, as well as the premier source of mindbody medicine research.
We never accept financial compensation in exchange for editorial content of any kind, including reviews, endorsements or special offers. If we choose to recommend a treatment or product, it is simply due to the efficacy that has been objectively demonstrated to us over a long timeline of evaluation. We will never compromise our credibility in exchange for money.
On the subject, you might find that we tend to dwell much on the financial aspects of the modern medical industry. We do so in order to make it abundantly clear to patients that their health often takes a backseat to the potential monetary gain of their treatment. In essence, recommendations for care, diagnostic verdicts and bedside manner of the caregiver might all be influenced primarily by financial motivations. Never take for granted that these recommendations are ever made in a patient's best health interests…
We are proud to advocate for patients and criticize the many problems in the medical industry. We are all part of the healthcare vocation, but choose to point out its inherent problems in the hope of improving treatment for all of us and especially scoliosis sufferers.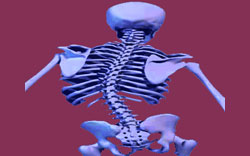 How to Use The Scoliosis Authority
All of the major topics on the website appear in the navigation bar. Each primary subject is divided into a number of related articles that work together to offer a complete perspective of the parent topic. In order to get a true appreciation of each resource, please read all of the essays contained in each section for best results. We also provide a site map and search function that allows readers to find any word or topic across all of our websites.
We provide active patient pages on social media and encourage readers to participate in our online communities. If you want to reach us, sending a message on any of our social media resources is surely the fastest and most effective means of contact.
As always, our content is written exclusively by our expert editorial board. We do not accept low quality content written by anyone else. Additionally, our content is not shared elsewhere through syndication or public license. If you want to keep current with out work, here is the only place that you can find it legally.